2018/03/31
姫路 麗、自身2回目のTV決勝パーフェクトで完全制覇!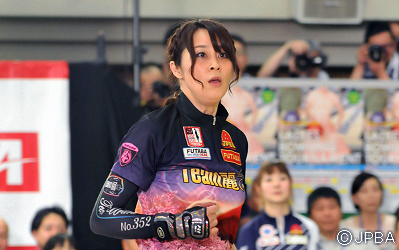 2018年の開幕戦にして最高に劇的な幕切れとなることを、誰が予想できたしょう。それとも昨年末から続く一連のドラマと見るべきでしょうか。2017年の総決算、全日本女子プロボウリング選手権大会で大会連覇にして4勝目を挙げた姫路 麗が、この関西オープンでJPBAの歴史に残る快挙を再び成し遂げました。
2日に分けて行われた予選では多くの選手が順位を大きく変動させ、姫路もその一人で前半70位と大きく出遅れてしまいました。大会前日に投球した際の良いイメージを引きずってしまい、前半はそこから変わることが出来なかったと語ります。
しかし女王と呼ばれる姫路がそこで終わるわけがなく、「昨日のレーンと今日のレーン、昨日の自分と今日の自分も違うもの。今目の前にあるレーンに向き合わなくてはいけない」としっかり立て直してきて一気に6位まで浮上。上位に位置する好敵手の松永裕美と、何としても対戦したいという一念で順位を守り、決勝ラウンドロビン進出を果たします。
予選、準決勝とアマチュアの庭月野 恵選手、石本美来選手、石本恵梨奈選手、武部公英選手らがプロを脅かす勢いで健闘しましたが、坂本かや、霜出佳奈、寺下智香、水谷若菜ら新進気鋭の若手、近藤文美・稲橋和枝のベテランに阻まれて惜しくも敗退。プロの意地を見せた8名が決勝ラウンドロビンのステージに上がりました。
ラウンドロビンでは姫路が3G終了時点でついに首位を奪取。しかし1位以下は順位の入れ替わりが激しく、最後まで誰が上がって来るか予想がつかない混戦状態となりますが、現役高校生の水谷、今春高校を卒業したばかりの坂本は先輩プロの厚い壁に阻まれてあと一つ上にあがることができません。結果、途中順位を落としながらも寺下が、そして松永と霜出が同ポイントでもつれ込み、決勝ステップラダーへと進みます。
4位決定戦は今大会は体調不良ながらも途中で諦めることを良しとせず、ラウンドロビンでは姫路と290対280という熱い勝負を繰り広げてここまで勝ち上がってきた松永と、プロ入り2年目の霜出の対戦。
序盤はほぼ互角ペースで進むも、中盤で松永がストライクを途切れさせると、霜出が7連続ストライクで畳みかけて一気に松永を引き離し、昨年のジャパンオープン以来のリベンジを果たします。
続く3位決定戦、寺下との同い年対決は接戦となりましたが、寺下が10フレーム1投目にスプリットを出してしまい自滅。霜出が初優勝を賭けて姫路との優勝決定戦へ駒を進めます。
しかしここでまたレーンの変化が進み、ここまで同じレーンで投げ続けてアドバンテージがあるかに思えた霜出がストライクとスペアを交互に繰り返すダッチマン状態に突入。霜出が左レーンに捕まっている一方、姫路のストライクは途切れることなく、差は着々と開き、最終フレームを前に霜出の敗北が確定。しかし霜出も最後の10フレーム目でようやく左を克服し、9フレーム目からのオールウェーを決めて意地を見せました。
そしてここまでストライク11個を繋いだ姫路の最後の投球は、場内すべてが固唾を飲んで見守るなか、見事にポケットを突いてストライクに。その瞬間、怒濤の歓声が沸き上がりました。
自身10回目にして、2回目のTV決勝パーフェクトで完全勝利を果たし、「私は狙ったところにボールを投げるだけ、私のピンは私を応援してくれるみんなの力が倒してくれる」と語った姫路。ファンや関係者が熱く見守る地元大阪で、多くの期待と恩に応える見事な17勝目となりました! 
ラウンドロビン進出は惜しくも逃すも、総合10位でベストアマ獲得!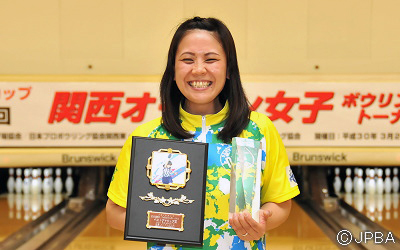 庭月野 恵 選手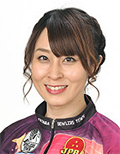 姫路 麗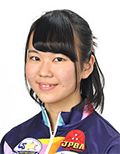 坂本 かや
---
2018/03/30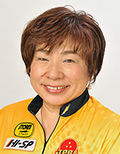 加藤八千代
---
2018/03/29
亀島愛永選手 & 斎藤祐太選手チームが優勝!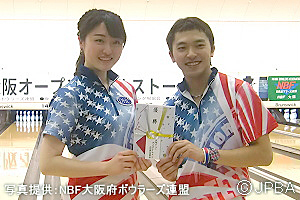 先日の3/月18日(日)にイーグルボウル(大阪)で開催されました承認大会・第1回大阪オープンダブルストーナメントを、亀島愛永選手 & 斎藤祐太選手チームが制覇されました。
一人が1投ずつ投球するスカッチダブルス方式で行われた決勝トーナメントにて、亀島選手 & 斎藤選手チームはセミファイナルで久保田彩花 & 田中清隆選手チームを破って優勝決定戦へ進出。浅田梨奈 & 山中 悟のプロチームとの対戦となりましたが、中盤に4連続ストライクを決めて浅田 & 山中チームを撃破。アマチュア同士のチームが初代優勝チームの座を勝ち取りました。
---
2018/03/25
Fourth Time's the Charm for Jason Belmonte & Bill O'Neill in Roth-Holman PBA Doubles Championship presented by BowlerX.com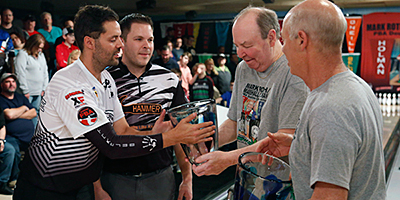 After fourth-place finishes as partners in three previous Mark Roth-Marshall Holman PBA Doubles Championships, Australia's Jason Belmonte and his "best mate," Bill O'Neill of Langhorne, Pa., finally won in their fourth try.
With the tournament's namesake PBA Hall of Fame partners in the crowd for the finals of the event that was presented by BowlerX.com, Belmonte and O'Neill defeated brothers Darren and Michael Tang of San Francisco, 205-185, at Wayne Webb's Columbus Bowl. The finals of the fourth event of the 2018 Go Bowling! PBA Tour season aired Sunday on ESPN.
After a dominating performance in the preliminary qualifying rounds where they averaged a combined 238.31 for 76 games, earning the top berth in the finals by 327 pins, Belmonte and O'Neill finished in convincing style. The win was the 17th of Belmonte's career and the ninth for O'Neill.
The championship came down to age-and-experience out-matching the youthful exuberance of third-year PBA member Darren Tang, 24, and his 22-year-old brother Michael, a PBA Tour rookie. O'Neill and Belmonte threw only four strikes in the title match – including one double – and converted six single-pin spares. It was enough to stave off the Tangs, who had won three consecutive matches to reach the title contest, but were unable to put together back-to-back strikes in the final match. And one missed 10 pin spare by Darren Tang in the eighth frame was a setback that proved costly.
"The lanes transitioned in a way I didn't see coming, but during the semifinal match you could see they weren't right," O'Neill said. "Marshall (Kent) isn't going to bowl a game like he did very often. We decided we'd be content to hit the pocket and if (the pins) fell, they fell. We were hoping we could get it done with a 2-oh game, and fortunately that's what we did."
"It wasn't playing defense; it was more that we were playing safe," Belmonte said of the team's conservative approach. "The adjustment either one of us could have made to be more aggressive was a risk, so if (the Tangs) couldn't show us they were going to put together a string of strikes, there was no reason to take that risk.
"We bowled amazing all week," Belmonte continued. "Winning was kind of getting the monkey off our back. We've been there three other times when we didn't perform amazingly and today we didn't have to perform amazingly, but we did exactly what we needed to do."
In the alternate-frame format, where each teammate bowled five frames on one lane, the Tang brothers came out of the gate on fire, putting together a string of six strikes early on their way to a 223-203 win over Texans Shawn Maldonado and DJ Archer in game one. Splits and open frames in the final two frames by the Tangs were the only flaws that kept the score close in the end.
In game two, Brandon Novak of Chillicothe, Ohio, and Kris Prather of Plainfield, Ill., looked like they were going to eliminate the brother team when they put together a string of five early strikes. But the Tangs started with three strikes, converted two single-pin spares and combined for three strikes to take the see-saw battle into the 10th frame where Michael Tang doubled and Prather, after a strike on his first ball, left a 10 pin on his second. The Tangs escaped with a 243-235 decision.
The semifinal contest against two of the PBA's top high-rev power players, Marshall Kent of Yakima, Wash., and EJ Tackett of Huntington, Ind., was a struggle for both teams as they quickly degraded an oil pattern that had already undergone the wear-and-tear of two earlier matches. Kent was especially vulnerable, throwing three consecutive splits he was unable to convert. Michael Tang also failed to convert a split, but otherwise the brothers left single pins they were able to spare in posting a 172-151 win to advance to the title match.
---
2018/03/18
United States Bowling Congress Hall of Famer Tish Johnson of Colorado Springs, Colorado, finally claimed the USBC Senior Queens tiara she's coveted, defeating fellow USBC Hall of Famer Jeanne Naccarato at Gold Coast on Sunday.
Johnson, a 55-year-old left-hander, capped a dominating performance this week with a 267-191 title-match victory over Naccarato of Tacoma, Washington. Johnson earned $8,000 for the win, while Naccarato's second-place finish netted her $6,400.
Johnson, who recorded four consecutive runner-up finishes at the Senior Queens from 2013-2016, left no doubt in 2018, striking on nine of her first 10 deliveries in the final.
Naccarato, who claimed her third career title at the National Golden Ladies Classic earlier in the week, put herself in position to win a second title in Las Vegas but saw her chance slip away after back-to-back opens in the fifth and sixth frames against Johnson.
Between the USBC Queens and Senior Queens, Johnson failed to secure a tiara in nine championship-round appearances prior to her win Sunday.
When she saw the look she wanted during practice on the championship pair and caught a few early hits against Naccarato, the 25-time Professional Women's Bowling Association Tour titlist knew it was her time.
"I saw a lot of different looks during match play, but the championship pair played just like qualifying for me," said Johnson, who also is a member of the PWBA Hall of Fame. "Right away, I had a game plan, and anytime I can go away from the pocket, I can be pretty dangerous.
"You lead (the Senior Queens) enough and start to wonder if it's ever going to be your turn. After getting a messenger in the first, tripping out the 6-8 and seeing Jeanne miss a couple of spares, which she never does, I started to think it was going to be my time. Being able to have my family and a lot of friends here made it incredible."
Johnson earned the top spot through qualifying (234.47 average for 15 games) and rolled through match play leading up to her title tilt against Naccarato. She averaged more than 240 in her five wins in match play, including a 782-603 victory over Sharon Powers of Lakewood, Colorado, to claim the top seed for the stepladder finals.
As the top seed in the true double-elimination format, Naccarato would've had to beat Johnson twice to claim her first tiara.
Naccarato advanced to the title match with a dramatic finish against Powers, delivering three strikes in the 10th frame to win, 204-203. Powers, who qualified second, had the chance to shut out Naccarato, but she left a 2-4-5 combination on her fill ball to give Naccarato the opening.
Naccarato, the No. 3 seed, used a late run of four consecutive strikes to best Michele Carter of National City, California, 228-212.
In the opening match of the stepladder, Carter started with six consecutive strikes and outdistanced Shandy Simchen, also from Tacoma, 244-220.
A four-player shootout round determined the No. 3, No. 4 and No. 5 seeds for the stepladder, and Naccarato paced the field with a 683 series. Simchen earned the No. 4 seed with a 622 effort, and Carter claimed the final spot by finishing with a 236 game to edge MeiLing Billingsley of Lee's Summit, Missouri, 571-567. Billingsley finished in sixth place.
Qualifying at the 2018 Senior Queens consisted of 15 games over two days to determine the 31 players who joined defending champion and USBC Hall of Famer Lucy Sandelin of Tampa, Florida, in the double-elimination match-play bracket.
All matches leading up to the stepladder finals were decided by total pinfall over three games.
Thanks to the assistance of eight handicap pins awarded to all women bowlers in the tournament, Sweden's Jenny Wegner won the PBA International-World Bowling Tour Brunswick Euro Challenge Sunday at Dream-Bowl Palace, thwarting a 10th frame comeback bid by tournament leader Anthony Simonsen.
Simonsen, the top qualifier, quickly fell behind when Wegner, the 2016 Qubica AMF World Cup women's champion, started the title match with five strikes. But the contest changed direction when the 23-year-old Swedish kindergarten teacher failed to convert the 1-2-4-10 washout in the seven frame. She still had the match under control until she left the 2-8 in both the ninth and 10th frames. Despite failing to convert the 1-8 spare in her final frame, the eight handicap pins-per-game awarded to all women in the tournament allowed Wegner hold off Simonsen for the title.
Simonsen, who had thrown only one strike on the right lane previously in the match, threw two strikes before leaving the 10 pin on his final shot for an actual 213-211 margin, but with her handicap pins, Wegner won by a 219-213 margin.
Simonsen, a 21-year-old two-handed player from Austin, Texas, started the seven-game Step Three match play round with games of 300, 287 and 278 – an 865 series – to expand his lead and he comfortably maintained his position all the way to the championship match.
In the first match of the three-player stepladder finals, Thailand's Yannaphon Larpapharat dug himself into a 21-pin hole after failing to convert a pair of splits, and Wegner had a double and a turkey in a clean game for a 233-214 win to advance to the title match.
---