2018/01/31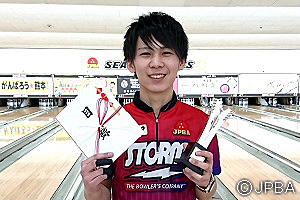 髙淵 常志
会場:博多スターレーン
---
2018/01/30
JPBA選抜大会A会場にて川添奨太がパーフェクト&800シリーズ達成!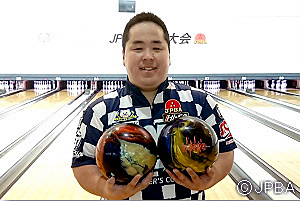 今年の超目玉となるビッグタイトル、ROUND1 GRAND CHAMPIONSHIP BOWLING 2018。本日、A会場・ラウンドワン博多半道橋店にて8ヶ月の長きにわたる選抜大会が開幕となりました。
各シフト上位2名の狭き門を目指して、選抜大会と言えど選手達が全力で投球するなか、川添奨太が第1シフト1G目に自身15回目(JPBA公認1455号)パーフェクトを、続いて第1シフト3Gシリーズで300・266・248計814ピンを打ち、自身3回目(JPBA公認288号)800シリーズも達成!
始まりの始まりから超ロケットスタートを決めた川添、まずは10月のJPBA決勝大会に一番乗りを決めました!
---
2018/01/28
England's Dom Barrett Wins DHC PBA Japan Invitational for Sixth Career Title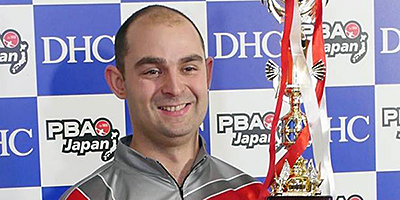 England's Dom Barrett defeated Kyle Troup of Taylorsville, N.C., 267-204, to win the DHC PBA Japan Invitational, the first tournament of the 2018 Go Bowling! PBA Tour season, at Tokyo Port Bowl on Sunday.
For Barrett, the title was the sixth of his Professional Bowlers Association career and came on the heels of a less-than-memorable start to his 2018 season while competing in non-PBA events in Europe.
"I just finished bowling in Sweden and Finland," he said. "I physically felt good but I didn't get anywhere, so I was looking forward to this week. Japan is very special. You have to qualify to be here and there is a lot of history with this event. I led it two years ago and (PBA Hall of Famer) Amleto (Monacelli) beat me, so it was great to have another go at it."
Barrett, who earned 5 million Japanese yen (roughly $46,000 US dollars), jumped into the tournament lead with a strong opening eight-game match play round. Troup, trying for his third PBA Tour title, overtook Barrett in the second round of match play, but Barrett defeated Troup in the final position round match to regain the top berth for the stepladder finals where he ran away from the American two-handed player.
Qualifying leader Anthony Simonsen of Austin, Texas, started the stepladder finals with a 248-244 win over Marshall Kent of Yakima, Wash. He then eliminated Japanese star Shota Kawazoe, 278-257, before losing to Troup in the semifinal match, 227-180.
The PBA provided live coverage of the DHC PBA Japan Invitational on its video streaming service, Xtra Frame, and will continue its live streaming service when the Tour opens its mainland U.S. schedule with the PBA Tournament of Champions at AMF Riviera Lanes in Fairlawn, Ohio, Feb. 7-11. A Tournament of Champions pre-tournament qualifier precedes the start of the TOC on Feb. 5.
---
2018/01/27
Texas Two-Hander Anthony Simonsen Leads Top 16 Qualifiers into DHC PBA Japan Invitational Match Play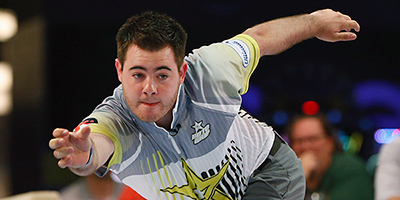 Three weeks after celebrating his 21st birthday, Anthony Simonsen of Austin, Texas, averaged 227 for his 12 qualifying games Saturday at Tokyo Port Bowl to lead the field of 16 finalists into Sunday's match play finals of the DHC PBA Japan Invitational, the first tournament of the 2018 Go Bowling! PBA Tour season.
Simonsen, a three-time PBA Tour titlist, rolled games of 200, 215, 231, 243, 244, 248, 211, 218, 245, 229 and 238 in Saturday's two six-game qualifying rounds for a total of 2,724 pins and an 83-pin lead over Ryan Ciminelli of Clarence, N.Y. Reigning PBA Player of the Year Jason Belmonte of Australia was in third place, seven pins behind Ciminelli, and defending DHC PBA Japan Invitational champion EJ Tackett of Huntington, Ind., advanced to match play in 10th place, 156 pins behind Simonsen.
Simonsen, who has been bowling abroad for the past month, said he arrived in Japan full of confidence.
"This is my fourth tournament internationally in the last month," the Texas two-hander said. "I bowled an event in Ireland last week and was fortunate to walk away with a win. I also won an event in Korea in late December so I feel like I'm definitely on my game right now and looking forward to extending my winning streak this week."
The PBA is providing live coverage of the DHC PBA Japan Invitational on its video streaming service, Xtra Frame. Two eight-game round-robin match play rounds will air at 6:20 and 10:40 p.m. EST today followed by the five-player stepladder finals at 3:30 a.m. EST Sunday.
For fans who prefer a more convenient time to watch, each XF segment from Japan will be available on demand in Xtra Frame's "What's New" section within approximately an hour of the live stream, and in the XF archives shortly thereafter.
---
2018/01/25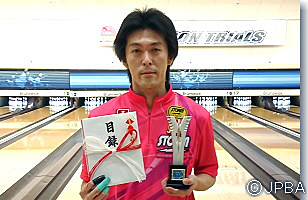 平山 陽一
会場:イーグルボウル
---
2018/01/24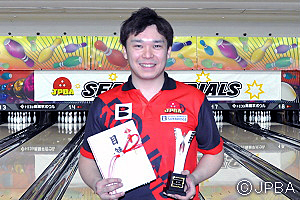 高田 浩規
会場:トミコシ高島平ボウル
---
2018/01/23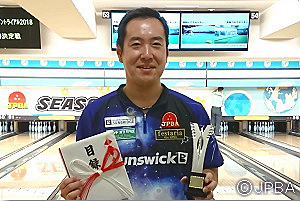 小原 照之
会場:品川プリンスホテルボウリングセンター
---
2018/01/22
男子・工藤郁也選手、女子・矢野朋代が優勝!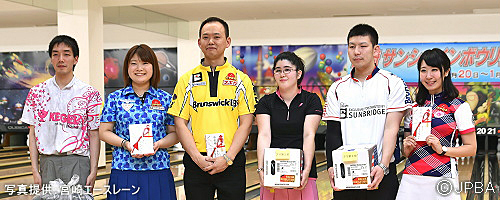 1月20日(土)・21日(日)の2日間にわたり、宮崎エースレーンにて承認大会・U49 PROBOWLING TOUR 2018 宮崎サンシャインボウリングフェスティバルが開催されました。
男女とも若手プロが多く参戦し、予選8G、準決勝3Gを投げ男女上位3名ずつが決勝ステップラダーへ進出となる中、男女とも優勝決定戦はプロVSアマチュア対決に。
男子は九州地区の頼れるアニキ・玉井慎一郎がレフティの工藤郁也選手と対決しましたが、出だしから5連続ストライクで波に乗る工藤選手を止めること叶わず、工藤選手が優勝。
また女子は久保田彩花を倒して勝ち上がった平野亜紗実選手と矢野朋代が対戦。同期・久保田の仇を取って、矢野がワンマーク差で平野選手を下して優勝となりました。
---
2018/01/17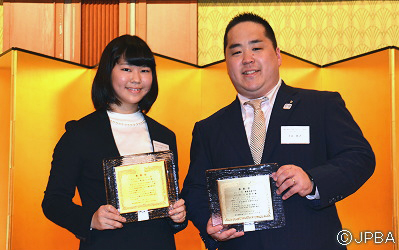 1月16日(火)に(公社)日本ボウリング場協会の賀詞交歓会が開かれ、その席上にて東京運動記者クラブボウリング分科会の表彰式が行われました。
最優秀選手賞プロの部では、5度目の三冠王を達成した川添奨太が受賞。ニュースター賞には16歳でプロデビューし、2年目でポイントランキング6位となり第1シードを獲得した坂本かやが表彰されました。
---
2018/01/17
Jason Belmonte Wins Fourth Player of the Year Award; Sanders, Loschetter, Ballard Also Win 2017 Honors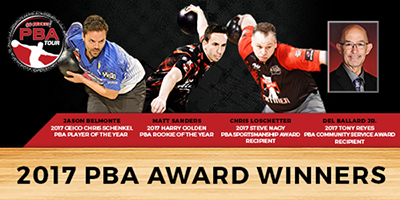 For the fourth time in the past five seasons, Australia's Jason Belmonte has been selected by the bowling news media and his fellow competitors as the GEICO Chris Schenkel Professional Bowlers Association Player of the Year.
The PBA's most prized individual achievement award for the 2017 season was announced today by PBA CEO and Commissioner Tom Clark, who also announced that Matt Sanders, an Evansville, Ind., native now living in Indianapolis, is the 2017 Harry Golden PBA Rookie of the Year; Chris Loschetter of Avon, Ohio, is the Steve Nagy PBA Sportsmanship Award winner, and PBA Hall of Famer Del Ballard Jr. of Keller, Texas, is the recipient of PBA's Tony Reyes Memorial Community Service Award.
All four will receive their awards during the Go Bowling! PBA 60th Anniversary Celebration Dinner and Hall of Fame induction ceremonies on Saturday, Feb. 17, at the Indianapolis Marriott North. The entire celebration dinner will be live streamed on PBA's online bowling channel, Xtra Frame.
Belmonte, after becoming the first player in PBA history to win three major championships among his four titles in 2017, was a landslide winner in balloting among his fellow PBA members and veteran bowling writers. At age 34 he joined Mark Roth as a four-time winner of the award. Walter Ray Williams Jr. is the all-time leader with seven Player of the Year Awards, followed by the late Earl Anthony with six.
"I am absolutely thrilled to be the PBA's Player of the Year," Belmonte said. "2017 was a really successful year for me and winning these awards just makes those successes even better. It really motivates me to continue to push myself even harder. I want to thank all the members who voted and also thank the PBA for giving me the opportunity to bowl on the best tour in the world. "
The most successful two-handed player in bowling history led the PBA in earnings ($238,912) and scoring average (a PBA record 229.39 for 380 games bowled), capped his 2017 season with a victory in the PBA World Championship for his ninth career major title after winning the Barbasol PBA Players Championship and an unprecedented fourth United States Bowling Congress Masters title earlier in the season. He also won the inaugural Storm Lucky Larsen Masters in Sweden for his fourth title of the year.
It was a great "comeback" after a less-than-Belmonte-like year in 2016 when he didn't win a PBA title after winning Player of the Year honors for three consecutive years, but, as Belmonte said, "2016 wasn't a bad year. It was a bad year on TV because I was letting things get to me, like winning a fourth straight POY."
Belmonte has pledged to himself that won't happen again in 2018.
"I don't want to have that conversation, that I was too busy thinking about Player of the Year to bowl well," he said. "That's not going to happen; I'm not going to let myself do that. If another player has a better year than I do, it's not going to be because I was thinking about end of year awards."
2017 PBA Harry Golden Rookie of the Year Matt Sanders
Sanders, a 23-year-old left-hander and former two-time All-American with Marion University-Indiana, was the overwhelming choice over one of the strongest fields of rookies in recent PBA history.
He was the only rookie to win a PBA Tour title (in the Xtra Frame Billy Hardwick Memorial Open presented by Chris Hardwick at Billy Hardwick's All Star Lanes in Memphis, Tenn., in June). Sanders qualified ninth for the match play elimination finals of the "throwback" plastic ball tournament, eventually defeating PBA50 Player of the Year Brian LeClair, 243-237, for the title.
He concluded his first season with a fifth-place finish in the PBA World Championship, losing a 10-7 sudden-death roll-off to Kyle Troup after they tied at 248-248 in the opening match of the World Championship finals.
"It's an honor just to be in the conversation with the bowlers who compete on tour," Sanders said. "I go into each tournament believing I can win. Sometimes, maybe I put a lot of pressure on myself to be the best I can be. I feel that when I'm at my best I can compete with anyone. I just need to relax and do what I do best and hopefully the rest will take care of itself.
"I bowled in 12 tournaments last year and to win one and finish fifth in the World Championship, I'm pretty satisfied with that. I plan to bowl a full schedule in 2018. Now it's up to me to build on a very satisfying 2017 season and see where that takes me."
Among PBA rookies in 2017, he was the average (215.84) and earnings ($30,965) leader.
2017 Steve Nagy Sportsmanship Award
Loschetter, a 37-year-old two-time PBA Tour champion, won the PBA's prestigious sportsmanship honor in voting among his fellow competitors, topping Denmark's Thomas Larsen and Canada's Francois Lavoie.
Loschetter, a two-time Junior Team USA member, completed a nine-year quest for his first PBA Tour title in the 2012 Wolf Open in Milwaukee and won his second as a member of the Merica Rooster Illusion team that won the 2016 PBA Team Challenge title in Las Vegas while still in recovery from his personal battle with testicular and abdominal cancer. Loschetter has been a member of the PBA League's Philadelphia Hitmen since the program's inception in 2013.
"I mentioned to some of my close friends that it's nice to be nominated, but I never expect it," Loschetter said. "It's very humbling; I'm honored to win it. I think a lot of it is how you treat people, probably more off the lanes and how you behave on the lanes. I think I used to be a bit more emotional but as I've grown older, I've calmed down.
"The big life change for me was really becoming a father," he added in regard to how his personality has evolved. "That definitely influenced me in how I want people to look at me. I want to be a good example for my son. Also, the way my parents raised me in church, to treat others the way you'd want to be treated. That made a big impact on me."
2017 Tony Reyes Memorial PBA Community Service Award
PBA Hall of Famer Del Ballard Jr.'s life changed immediately, and dramatically, in May 2010 when he was diagnosed with tonsil cancer. As Ballard had demonstrated over a PBA career that lasted nearly three decades and included 13 titles, he was a fighter. He wasn't about to succumb to "The Big C" without a battle.
One evening after a treatment, Ballard, wife Carolyn and a handful of friends got together at Ballard's house and laid the groundwork for what would become "Ballard Vs. The Big C" – or BVBC for short. Within three years, their fund-raising bowling tournament raised more than $145,000. As of 2017, Cancer Care Services, Baylor Health Care and the North Texas Laryngectomy Society have received in excess of $300,000 to carry out research on cancer treatments focused on the head, neck and throat.
"I'm really kind of shocked; when Tom (Clark) called, I figured he was going to yell at me for something I did wrong," said Ballard, who is known for his dry sense of humor.
"It takes a lot of people to do what we've done," he added on a more serious note. "A lot of people support us. It's a pretty incredible thing. I was telling someone recently that you always want to turn something negative into a positive. At the time (he learned of his cancer) it was a big negative, but we turned it into a big positive.
"We'll keep at it; my group won't let me quit. All you have to do is go with me to one doctor's appointment and you'll understand why I do what I do. As bad as my experience was, it's minor compared to what I see others are going through."
Ballard remains an active member of the PBA Tour as a manufacturer's representative for Storm Products as well as serving as manager of the PBA League Motown Muscle.
---
2018/01/07
Belmonte, Zavjalova Win World Bowling Tour Finals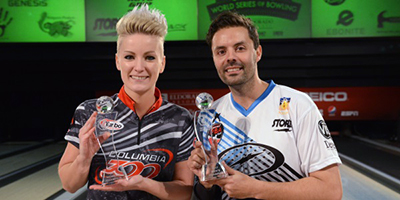 Top World Bowling Tour Finals qualifiers Jason Belmonte of Australia and Latvia's Diana Zavjalova capped a 2017 PBA/WBT season with wins in the World Bowling Tour Men's and Women's Finals televised Sunday on ESPN from the National Bowling Stadium.

The Finals, which were part of GEICO PBA World Series of Bowling IX presented by Eldorado Resort Reno Properties and the 2017-18 Go Bowling! PBA Tour season, used the experimental "Current Frame" WBT scoring system which awards 30 points for a strike, 10 plus pinfall on first ball of the frame for a spare, and the total pinfall for the frame for an open. There are no bonus or "fill" shots in the 10th frame and the maximum score is still 300.

The World Bowling Tour Finals featured the top three players in WBT points in men's and women's divisions during the 2017 season with each division competing in a separate stepladder final.

Heading into the ninth frame of the drama-filled men's championship match with a 10-pin lead, No. 3 qualifier and last year's third-place finisher Marshall Kent of Yakima, Wash., failed to convert a 10 pin spare leaving the door open for a Belmonte win in the 10th.

In the 10th Belmonte closed with a 267 game forcing Kent to strike to tie the match. Kent came through with a pressure-filled solid pocket hit to also close with 267 forcing a sudden-death roll-off. Belmonte won the roll-off with a strike in the first frame to Kent's eight-count after he left the 2-8.

"Yeah, I was worried," said Belmonte referring to Kent's fast start with the first five strikes in a row. "Fortunately, after the spare in the first frame I was able to put five strikes together to get back in the match and then it was like anything could happen at that point."

For Belmonte, it was his second consecutive WSOB IX win after his recent milestone PBA World Championship win on ESPN for a record third major win of the season and ninth of his career.

"It's a unique feeling the pressure you feel to get a strike when it comes down to one shot after you've travelled the world to get to this point," Belmonte added. "The pressure you feel to get a strike was like the inside of your body wanting to be on the outside."

In the semi-final match, Kent advanced to the championship match with a 231-224 win over No. 2 qualifier Jesper Svensson of Sweden, who finished second to Belmonte in the World Championship.

In another tightly contested title match, Zavjalova beat two-time defending champion Danielle McEwan of Stony Point, N.Y., 235-232, to win the women's final.

With the match even in the fifth frame, McEwan opened in the sixth after missing a 1-2-4-10 washout giving Zavjalova a 25-pin lead. However, McEwan was able to come back and overtake Zavjalova with an eight-pin lead after striking in the seventh, eighth and ninth frames while Zavjalova could only manage spares in those frames.

With the match coming down to the 10th, Zavjalova finished with a strike to post her 235. Needing a strike to win, McEwan left a solid 10 pin handing the win to Zavjalova.

"I didn't feel comfortable in the middle of the game, but that's going to happen now and then," said Zavjalova, who was competing in her first WBT final. "I just had to deal with what was in front of me and hope it was good enough to win.

"When Danielle put those three strikes together at the end of the game I thought I had lost the match," she added. "After I struck in the 10th it was out of my hands at that point—whatever happens, happens. It was just my day today."

In the semifinal, McEwan defeated international standout Shalin Zulkifli of Malaysia 244-231 to advance to the title match.
---