2015/03/31
Nine Days Later, Josh Blanchard Wins Second PBA Tour Title in Maine Shootout
Nine days after winning his first Professional Bowlers Association Tour title in Germany, Josh Blanchard of Gilbert, Ariz., made it back-to-back titles, winning the PBA's Xtra Frame Maine Shootout at Bayside Bowl Tuesday with a 2-1 victory over Australia's Jason Belmonte in the best-of-three-game title match.
The Maine Shootout, the first PBA Tour event held in Maine, was a best-of-three-game, single-elimination match play tournament that was covered live on PBA's exclusive online bowling channel, Xtra Frame.
Blanchard, fresh off his first career win in the Brunswick Euro Challenge, won five consecutive best-of-three-game matches, including a stunning Round of 64 decision over Wes Malott of Pflugerville, Texas, on his way to the title. In his first match, Malott won the first game, 270-202, but the 2011-12 PBA Rookie of the Year then rallied for consecutive 258-256 victories to begin his march to the title. He then eliminated Greg Ostrander, Freehold, N.J., 2-0; Jason Sterner of Covington, Ga., 2-0; Bryon Smith of Roseburg, Ore., 2-0, and Osku Palermaa of Finland, 2-0, to reach the title match against the two-time reigning PBA Player of the Year where he won the first game, 243-180, lost the second, 204-234, and started with six strikes en route to a 249-211 in the deciding game..
"I just decided to stop trying to hook the ball," Blanchard said of his career-changing strategy. "I decided I just don't have the ball rotation to hook the ball with these guys, so I went back to playing it straight, and I think I'll keep doing it for awhile."
For his victory, Blanchard earned $10,000 and he denied Belmonte a third 2015 title.
The PBA Tour will resume competition May 9-17 in Shawnee, Okla., with Oklahoma's Grand Casino Hotel and Resort PBA Summer Swing at Firelake Bowling Center and the Grand Casino Event Center. The Wolf, Bear, Badger and Oklahoma Open titles will be decided, along with a King of the Swing special event. Preliminary rounds will be covered line on Xtra Frame and the finals of all five events will air on CBS Sports Network on dates to be announced.
---
2015/03/30
山本 勲 優勝!
先の3/月15日(日)に品川プリンスホテルボウリングセンターで開催されました承認大会・第15回 ABS 300クラブプロアマトーナメントにて、山本 勲が優勝致しました。
決勝ステップラダーはABS契約プロが揃い踏みし、山本と黒川 靖の頂上決戦では246対224という見応えある一戦となった模様です。
第7回 EXENO CUP 藤井信人がプロの部優勝!
昨日の3月29日(日)、新狭山グランドボウル(埼玉)にて開催されました第7回EXENO CUPにて、プロの部を藤井信人が制しました。
予選6G、決勝4Gのトータル10Gを投げ、予選7位の藤井は決勝でビッグゲームを連発。最終ゲームは落としたものの2位の保倉映義を25ピン差で押さえ込み、優勝を手に入れました。
なおアマチュアの部では坂本詩緒里選手が優勝。プロテストを間近に控え、良い弾みとなりました。
---
2015/03/29
BROOKLYN STyLES, Silver Lake Atom Splitters Advance to PBA League Semifinal Round
With a sold-out crowd cheering loudly throughout the competition, the Concrete Software BROOKLYN STyLES and Bass Pro Shops Silver Lake Atom Splitters each won a one-ball sudden-death roll-off at Bayside Bowl to advance to the semifinal round of the PBA League Elias Cup playoffs.
The opening round of PBA League competition aired Sunday on ESPN.
Bowling in the state of Maine for the first time in PBA history, and in a 12-lane bowling center converted into a two-lane arena for the PBA League team competition, a raucous, fun-loving crowd of bowling fans cheered non-stop throughout two best-of-two-game team matches, both of which were decided by one pin in one-ball roll-offs.
In the first match, the 2013 Elias Cup champion GEICO New York City WTT KingPins, anchored by PBA Hall of Famer Pete Weber, struggled to a 182-171 victory over the STyLES in a game marred by four missed single-pin spare conversion attempts between the two teams.
"That was a display of spare shooting like you've never seen before," STyLES anchor bowler Parker Bohn III said sarcastically. But the STyLES found the pocket in game two, putting together strings of three strikes three times to win, 247-148, and send the match into sudden-death where Bohn's strike beat Weber's nine-count.
"That shot was for the entire team," Bohn said of his winning strike. "My teammates put their trust in me and I was able to come through."
"I thought that shot would be flush in the pocket," Weber said of the 7 pin he left in the roll-off, "but it just kept going."
In the second match, the Bass Pro Shops Silver Lake Atom Splitters couldn't put two strikes back-to-back, but they bowled an otherwise flawless game to win the first game, 192-179. The key to the win was Mika Koivuniemi's rare 2-8-10 split conversion which energized his team, and proved especially important when the High 5 Gear Philadelphia Hitmen caught fire, running away to a 265-205 win in game two to force the roll-off.
The defending Elias Cup champion Atom Splitters moved on to the semifinal round when Hitmen anchor Rhino Page left the 4-7 on his first shot, and Atom Splitters' anchor Dick Allen left only a 10 pin for the 9-8 win.
"I make the 2-8-10 a few times a year," Koivuniemi said of his pivotal shot, "but I've never made it on TV. I was trying to make it by throwing the 2 pin into the 10 and hoping it would bounce across. That's what happened, but it's always lucky to make it. It kind of took (the Hitmen's) hopes away."
The atmosphere in Maine was unique, with fans cheered loudly and music blaring in the background throughout the competition, and the players loved the high level of enthusiasm.
"It was electrifying to the max," Bohn said. "We used to bowl in an arena in Erie, Pennsylvania with 4,000 noisy fans, but that was nothing compared to this. I think the people in Erie could hear the fans in Maine."
"It was really fun," Weber added. "I've never seen anything like it. Never."
The third and fourth quarterfinal matches in the PBA League series will air next Sunday on ESPN at 3:30 p.m. ET when the HotelPlanner.com Pittsburgh Jack Rabbits, led by former PBA Player of the Year Wes Malott, meet the Shipyard Brewery Dallas Strikers, led by player-manager and PBA Hall of Famer Norm Duke. The fourth quarterfinal match is between Detroit's Barbasol Motown Muscle, led by 2013 PBA Rookie of the Year EJ Tackett, vs. Wheaties L.A. X, led by two-time reigning PBA Player of the Year Jason Belmonte.
The four quarterfinal round winners will advance to the semifinal round on ESPN on Sunday, April 12, at 2 p.m. ET. The semifinal round winners will bowl for the Elias Cup in a single, doubles, trios and Baker team finale on Sunday, April 19, at 1 p.m. ET.
---
2015/03/23
3月20日(金)に受験申請期間が終了致しました第54回男子・48回女子プロボウラー資格取得テストに、男女あわせて127名の申請がありました。
これにより4月7日(火)より開始の第一次テストには、一次免除者を除いて東日本地区では男子49名・女子16名、西日本地区では男子24名・女子14名が受験致します。
今年もどうぞ受験生達への温かいご声援をお願い致します。
---
2015/03/22
Arizona's Josh Blanchard Wins First PBA Tour Title in 12th Brunswick Euro Challenge
Josh Blanchard of Gilbert, Ariz., won his first PBA Tour title Sunday, defeating Malaysia's Li Jane Sin, 248-211, in the title match of the 12th Brunswick Euro Challenge at Dream-Bowl Palace.
Blanchard, a 27-year-old fourth year PBA player and PBA's 2011-12 Rookie of the Year, was the top qualifier following the six-game Step 2 qualifying round and a seven-game Step 3 match play round. Sin, one three women to advance to the Step 3 round, defeated Sweden's young two-handed star, Jesper Svensson, 225-214, in the semifinal match.
The Brunswick Euro Challenge was a PBA International-World Bowling Tour event. Competition points were earned by men and women in the event, leading toward three berths in the World Bowling Tour Men's and Women's Finals, presented by the PBA, which will be contested during PBA World Series of Bowling VII at South Point Bowling Plaza in Las Vegas this fall.
The PBA Tour returns to action March 28-29 with the PBA League Elias Cup playoffs at Bayside Bowl in Portland, Maine, followed by the Xtra Frame Maine Shootout March 30-31, also at Bayside Bowl. The Elias Cup playoffs will air on ESPN on four consecutive Sundays, beginning March 29 at 5 p.m. ET, and the Maine Shootout will air live, from start to finish, on PBA's Xtra Frame online bowling channel. For Xtra Frame subscription information, visit pba.com and click on the Xtra Frame link.
---
2015/03/07
Sweden's Svensson Wins Battle of Two-Handers for First PBA Tour Title in Bahrain International Open
Sweden's Jesper Svensson, who turned 20 less than a month ago, won an international battle of two-handed players Saturday, defeating Australia's Jason Belmonte, 258-244, to win his first PBA International Tour title in the 13th Kingdom of Bahrain International Open at Ozone Entertainment Center.
After qualifying in 20th place earlier in the week, Svensson, a left-handed two-hander, dominated the six-game single elimination rounds, averaging 239, 237, 244 and 243 in four 12-player preliminary rounds and ran away with the top qualifying berth for the three-player stepladder finals by 82 pins over Belmonte. Svensson, who joined the PBA in August 2014, earned $25,000 and became eligible to participate in the 2015 PBA Tournament of Champions.
Belmonte, the two-time reigning PBA Player of the Year, earned $12,500 after barely surviving Round 4 when he rolled a 158 in his sixth game, holding off Tom Daugherty of Tampa, Fla., by three pins after Daugherty closed his round with a 257 game. Long-time international star Mika Koivuniemi, a Finnish native now living in Hartland, Mich., finished third after advancing to the semifinal round by winning a one-game roll-off over Venezuela's Ildemaro Ruiz, 216-183.
The next PBA International Tour-World Bowling tournament will be the Brunswick Euro Challenge at Dream Bowl Palace in Munich, Germany, March 14-22. PBA Rookie of the Year Marshall Kent of Yakima, Wash., won the 2014 title as an amateur.
渡邉航明、家族に捧げる初優勝!
パーフェクト12個、800シリーズ7個が飛び出す大激戦となった男子の今季開幕戦。どれだけ打っても一つミスをすればたちまち振り落とされてしまうほどのタフな戦いをくぐり抜け、大会最終日の今日、アプローチにあがったのは10名のタイトルホルダーと2名の優勝未経験者。山崎行夫を筆頭に、青木彰彦、栴檀 稔、高橋延明、水野成祐、岡部直治といったプロ入り20年以上のベテランに、若手では三冠王・川添奨太とルーキーイヤーにポイント王に輝いた藤井信人、昨年レギュラーツアー初参戦で初優勝を成し遂げた山上英章らJPBAが誇る若きエースが出揃います。
そんな中、今大会の台風の目となったのは糸山賀津人、そして川添と同期デビューで永久A級ライセンスの金ワッペンに王手を掛けた渡邉航明の二人でした。
決勝ラウンドロビンで2つのパーフェクトと800シリーズを同時達成という快挙を遂げた渡邉が中盤からトップに立つと、糸山がその後に続いて1,2位を固めます。
勝ち星を重ねた藤井が3位に飛び込んできた一方、準決勝トップ通過の山崎がなんとか踏み止まって4位を守り、ファイナルステージ進出を決めました。
そして始まった決勝ステップラダー4位決定戦、山崎VS藤井の対戦は8連続ストライクを決めた藤井が山崎を圧倒。しかし続く3位決定戦では一転してストライクが繋がらなくなり、逆に糸山が8連続ストライクを決めて渡邉との優勝決定戦へと駒を進めます。
12名のラウンドロビン出場選手のなかでたった二人の優勝未経験者による対戦となった頂上決戦。今大会、予選の時点で「このレーンは自分が絶対打てるレーンだ」と確信していた渡邉が滑り出しからラッキーを拾いつつも7連続ストライクを決め、3フレーム目で失投からオープンにした糸山をリードします。
糸山もすぐに建て直して4フレーム目から4連続ストライクに成功。しかし一昨年のJAPANCUPにて勝負どころで10番ピンをカバーミスしてビッグタイトルを逃したことがずっと心の棘になっていた渡邉、慎重にノーミスを守って糸山を寄せ付けません。
そして10フレーム1投目で9本以上倒せば優勝が確定する場面で渡邉は10番ピンを残し、カウントは9本。優勝は確定したのだから倒せなくても問題はないのですが、渡邉はこの因縁の10番ピンをしっかりとカバー。対戦相手と一緒に過去の自分をも乗り越えて、初優勝を掴み取りました。
昨年の夏に愛娘が誕生し、新米パパになった渡邉。守るべき大切な家族を得たことで一回り成長した姿を、この開幕戦で見せてくれました!
アマチュアただ一人の準決勝進出でベストアマ獲得!
中野恵太選手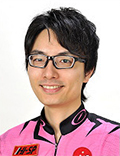 渡邉航明
---
2015/03/06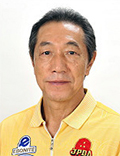 山崎行夫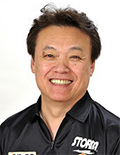 石原章夫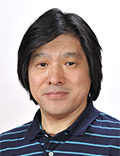 高橋延明
---
2015/03/05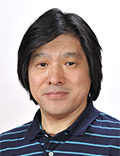 高橋延明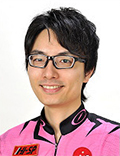 渡邉航明
---
2015/03/04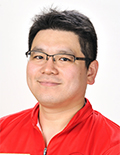 須田 毅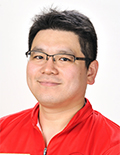 須田 毅
---
2015/03/03
前屋瑠美 優勝!
先日、2月28日(土)・3月1日(日)の二日間にわたってり、ファズボウリングセンターにて開催されました承認大会・第6回佐賀レディースプロアマオープントーナメントを、前屋瑠美が制しました!
昨年デビューの前屋は佐賀レディースに今大会プロとして初参加。愛甲恵子や川口富美恵、進 博美といったシード常連のトッププロを押しのけて松村伊津子と華々しい一騎打ちを繰り広げ、ラストゲームの終盤にオールウェーを決めて優勝を掴みました。
---
2015/03/01
Malott Helps Duke Win 38th Title in Roth/Holman PBA Doubles Championship; Duke Now Third on Titles List
Professional Bowlers Association Hall of Famer Norm Duke of Clermont, Fla., with the help of partner Wes Malott of Pflugerville, Texas, successfully defended their Mark Roth/Marshall Holman PBA Doubles Championship at Woodland Bowl, giving Duke his 38th career title and sole possession of third place on the all-time PBA titles list.
The doubles event aired Sunday on ESPN with the hall of fame namesakes in the crowd, watching the action.
Duke, who stands 5-foot-6 and weighs 128 pounds, teamed up with Malott, at 6-foot-4, 250 pounds, to defeat international stars Dom Barrett of England and Osku Palermaa of Finland, 228-203, for a victory that also gave Malott 10 career titles and eligibility for future PBA Hall of Fame consideration.
The 2011 Roth-Holman Doubles champions entered the finals as top qualifiers, and they bowled a game that was four single-pin spares away from perfection despite their contrasting physiques and bowling styles. Duke played a relatively straight line up the outside of the right lane, leaving and converting three of the four single-pin spares, but never missing the pocket. Malott played an inside angle on the left lane with his power game, striking on six of his seven shots.
"On day one in Milwaukee (where qualifying rounds for the doubles event took place two weeks earlier), there was so much traffic I had to play straight," Duke said. "I couldn't go around (the big-hook players), but the shot I found looked great and I told myself to remember that, because I figured that's what we would face in the TV finals if we got that far, and that's exactly what happened."
Malott followed Duke's lead.
"We discussed the situation and decided I'd finish the game on the left lane, where I could stand far to the left on the approach and wouldn't have to deal with the ball return," Malott said. "We had to let the conditions develop, but Norm was okay on the right lane, and I was okay on the left. Norm told me some past history about leaving single pins on the right lane and I wanted to make sure he remembered what he told me."
As predicted, Duke left back-to-back single pins in his first two frames of the Baker-format contest. He said he was contemplating a ball change in hopes of striking, but Malott talked him out of it.
"Wes told me to just live with it," Duke said. "He told me, stick with the plan. We got a couple more nine-counts, but he just sat on that left lane and pounded the pocket. That's the reason we worked together so well. He believed in me and I believed in him, and it worked."
While breaking his tie with Pete Weber for third place on the PBA career titles list (behind Walter Ray Williams Jr. with 47 and Earl Anthony with 43) was memorable, Duke was subdued about the accomplishment.
"I don't think anyone believes Pete is done winning titles," the 50-year-old Duke said. "I don't like to think that I'm done, either. This is part of a process in building a career. I'm glad to be part of helping Wes build with his career, and I'm certainly glad he's helping with mine, because without him, I'm probably still chasing Pete. But to be ahead of Pete for even one day is a remarkable achievement, and something I truly value."
Malott, 38, felt the same about winning his 10th title, which will earn him a spot on the PBA Hall of Fame ballot in seven years, when he competes in his 20th year of membership.
"Winning the doubles title in 2011 after struggling for a couple of years after I won Player of the Year for the 2008-09 season kind of kick-started me again," Malott said. "Winning my 10th title and being eligible for the hall of fame someday is a huge honor, but I really don't think it'll set in until that day that it's announced I'm going to be put into the hall of fame. I'm very proud and humbled by what I've been able to accomplish, but right now it's mind-boggling to me."
Barrett and Palermaa – the 2013 and 2010 PBA World Championship winners respectively – defeated DJ Archer of Friendswood, Texas, and two-hander Shawn Maldonado of Houston, Texas, 237-179, in the opening stepladder match, spoiling Maldonado's television debut and bid for his first title. In the second match, the Finnish two-handed player and his English partner took advantage of back-to-back splits by Australian two-handed star Jason Belmonte and partner Bill O'Neill of Langhorne, Pa., to win 178-168.
Barrett and Palermaa started the semifinal match with six consecutive strikes and took advantage of back-to-back open frames by Tom Daugherty of Tampa, Fla., and partner Dino Castillo of Carrollton, Texas, to post a 220-201 victory and a berth in the title match.
PBA Tour players will compete in a trio of PBA International-World Bowling Tour events in Qatar, Bahrain and Germany over the next month before heading to Portland, Maine, March 28-31 for PBA League Elias Cup competition and the Xtra Frame Maine Event at Bayside Bowl. PBA League quarterfinal, semifinal and championship rounds will air over four consecutive Sundays beginning March 29. The Maine Event will be covered live, exclusively on PBA's online video streaming channel, Xtra Frame.
---