2014/08/25
Fourth PBA title for Finn
Third-seed, Osku Palermaa of Finland defeated top seed, Ryan Ciminelli of USA twice in the final match of the 2014 PBA-WBT #12 World Bowling Tour Thailand to win his fourth PBA title.
World Bowling Tour Thailand logo
Ciminelli of Cheektowaga, N.Y., had started the first match with three strikes-in-a-row for a 10 pin lead over challenger Palermaa but a split in the fourth frame allowed the two-handed Finn to draw level.
Both rolled a double in the seventh and eight frames but Palermaa had an upper hand with a third in the ninth frame to take the match, 227-213 and forced a second deciding match.
Again Ciminelli got off to a better start with a double and two marked frames as his opponent followed by marking the first four frames. Palermaa then set the lanes on fire as he reeled in six strikes-in-a-row while the American was unable to respond.

Palermaa went on to seal the match and win the title, 243-224 to pocket the top prize of 1 million Thai Baht (approx. US$32,350). Ciminelli settled for 500,000 Baht (approx. US$12,120).
"I hadn't used the urethane ball in the past few days but I started to use it today in the earlier Round 4 finals," said the 30-year-old champion, who owned two PBA titles which he won in 2010 and 2012 and the 2011-12 PBA Championship.

"I was very comfortable with the ball and when I saw Ryan was struggling, I knew I had a good chance to win." Palermaa earned a crack at the title after he dispatched second-seed, Naif Oqab of UAE, 234-191 in the semi-finals.
Palermaa also beat Round 3 leader, Suh Sang Cheon of Korea 224-206 in the quarter-finals. Suh had earlier ousted compatriot and fifth-seed Kim Byoung Suk and winner of the first match, Dominic Barrett of England, 234-217-204.
The Brit, who was seeded No. 6, defeated seventh-seed, Jason Sterner of USA and top Thai, Dechochai Tinjiratip, 257-235-218 to move into the next match.
In this morning's Round 4 finals, Ciminelli earned top spot with 1466. Oqab, who shot his second 300 and the tournament's third, finished second with 1343 ahead of Palermaa in third with 1322.
Suh, Kim and Barrett took fourth to sixth positions with 1305, 1291 and 1268 respectively. Sterner clinched seventh position with 1264 edging compatriot Marshall Kent by 1 pin. Dechochai was awarded eighth for the TV finals as the top Thai, who finished 12th with 1216.
102 bowlers participated in the final stop of this year's PBA-World Bowling Tour season. Mika Koivuniemi of Finland topped the rankings with 567 points followed by Sean Rash of USA in second with 549. Jason Belmonte of Australia finished third with 538.
In the women's division, Kelly Kulick of USA sealed top post by extending her total to 718 points. Liz Johnson of USA took second spot with 459 as Sandra Andersson improved to 410 to finish third. The top 3 in the rankings qualified for the World Bowling Tour Grand Finals.
World Bowling, which is made up of more than 100 bowling federations, governs the sport throughout the world. For more information on World Bowling and the World Bowling Tour, visit www.worldbowling.org.
---
2014/08/13
W.R. Williams Wins PBA50 Treasure Island Resort & Casino Open; Norm Duke Earns PBA50 Player of the Year
Walter Ray Williams Jr. won his ninth career PBA50 Tour title and Norm Duke withstood a challenge from Tom Baker for PBA50 Tour Player of the Year in the PBA50 Treasure Island Resort & Casino Open presented by Hammer Wednesday at Island Xtreme Bowl in Welch, Minn.
In another all-Hall of Fame championship match, Williams, who won the USBC Senior Masters for his first title of the season, defeated Baker 268-224 in the championship match. With a win Baker could have earned the 16 points necessary to move ahead of Duke of Clermont, Florida, for the Player of the Year title.
"It's a great way to end a season," said Williams, who is the PBA Tour's all-time titles leader with 47 wins. "I had a good season and when you can win against the talent that's out here now it makes it that much more satisfying.
"I think Norm owes me dinner but you can't take anything away from him – he bowled awesome all year," Williams added.
Duke left the door open for Baker to make a run at Player of the Year when the two Hall of Famers slugged it out in the Round of 8 with Baker winning the best-of-three match 2 games to 1.
Duke's closest competitor in the Player of the Year race going into the tournament was Hall of Famer Pete Weber who was just eight points behind but had to withdraw from the tournament prior to match play because of illness which required a hospital visit. He was treated and released.
In the semifinal matches, Baker defeated Hall of Famer Randy Pedersen of Orlando, 246-162 and Williams defeated Don Breeden of Urbandale, Iowa, 279-190, to advance to the championship match.
Williams' 268 game in the title match and the 279 in the semifinal match were his highest games of the tournament.
"I saved the best for last and that was the time to have them," Williams said. "Earlier in the day I wasn't really executing as well as I wanted but I was able to fine tune my adjustments at the right time."
Duke, who won two titles this season including the Senior U.S. Open, joined Baker as the only players to win PBA50 Player of the Year and Rookie of the Year in the same season. Baker, of King, North Carolina, earned both honors in 2005 which was the start of a record four consecutive PBA50 Player of the Year crowns for the 12-time PBA50 Tour winner.
"Player of the Year is what you aspire to and it's the pinnacle of the year," Duke said. "When I got beat in the Round of 8, the ball wasn't in my court and that's never a comfortable situation, but either way, I had a blast all season."
Also determined at the conclusion of the tournament which was seen live on pba's online bowling channel Xtra Frame, were the top eight players in competition points who earned an entry into World Series of Bowling VI in Las Vegas Oct. 24-Nov. 2 and a berth in the World Series PBA Champions Challenge PBA50 qualifier which will determine the final two players who will compete in the finals to be televised by ESPN.
The eight who qualified were Williams, Weber, Baker, Duke, Parker Bohn III, Amleto Monacelli, Harry Sullins and Ron Mohr.
---
2014/08/10
ジョン・スンジュ優勝!
KPBAの若きエースここにあり!
今年は真夏の開催となった三湖コリアンカップ。
日韓米のトッププロ達による激戦が本日閉幕致しました。
2日に分けられた予選12G、ガチンコ勝負の準決勝トーナメントを勝ち抜いて、最終日のファイナルステージに立ったのは山本 勲、川添奨太、藤井信人のJPBAが誇るエース3名、そしてKPBA唯一のファイナリストとなったジョン・スンジュ。
準決勝4回戦目で山下昌吾を下したジョンは、2012年にプロ入りする前は韓国ナショナルチームの一員として国際大会を舞台に戦ってきた猛者。しかもプロ入り直前にKPBAの公式戦でアマチュア優勝を果たし、デビュー後はルーキーイヤーに1勝を挙げてポイントランキングトップに輝いたという、まるで山本、川添、藤井とそっくりな道を歩いているKPBAのエース。
そんなジョンをJPBA歴代のポイントランキング王が囲む形となったTVファイナル4位決定戦は、ジョンがトップ、その後に藤井と川添が続き、4つのスプリットで自滅した山本が脱落します。
続く3位決定戦は2つのオープンが響いて藤井が脱落。ジョンと川添の一騎打ちによる優勝決定戦となりました。
準決勝では大先輩の矢島純一と呉竹博之を倒し、ファイナルステージでは好敵手達が敗退して行き、とうとうJPBA最後の砦となった川添。
しかし最後の砦なのはジョンも同じ。両者とも日韓ただ一人のファイナリストとして負けるわけにはいかない戦いは、ジョンはスペア、川添はダブルでスタートを切りました。
ジョンが2フレーム目から5連続ストライクに成功、ダブル以上に続かない川添が我慢しながら追いかける展開となりましたが、ジョンが8フレーム目に10番ピンをイージーミス。ノーミスを守って川添はワンマーク差まで追い詰めましたが、続く9・10フレームでストライクが決まらず、対照的に勝負どころの9フレーム目からダブルを決めたジョンが再びリードを広げて逃げ切りました。
JPBAのトップエースによる包囲網を乗り越えて、ジョン・スンジュがプロ入り2勝目を掴み取りました!
---
2014/08/07
Jack Jurek Wins PBA50 South Shore Open for First PBA50 Tour Title
Jack Jurek of Lackawanna, N.Y., who has endured a series of bad breaks in his quest for his first PBA50 Tour title, made a breakthrough Thursday night when he struck on eight of his first nine shots to defeat PBA Hall of Famer Randy Pedersen of Clermont, Fla., 242-205, in the title match of the PBA50 South Shore Open at Olympia Lanes.
"It's never an easy battle out here," Jurek said. "I've won a couple of Steve Nagy Sportsmanship Awards because I've lost a lot of times in title matches and people think I'm a nice guy."
Jurek, who had disappointing losses in Dayton, Ohio, a week earlier after losing a crushing loss to Hall of Famer Walter Ray Williams Jr. earlier in the year in the USBC Senior Masters title match, came into the finale in Hammond with a fresh attitude, thanks in part to some advice he got from Pedersen, his traveling roommate.
"(Randy) and I talked a little after my debacle in Dayton and he gave me some thoughts about how he approaches things," Jurek said. "It helped. I've got a lot of guys who have been trying to help. (PBA legend) Mark Roth has been telling me, stop being so nice. Go beat people, so tonight I just decided to go for it. I was a lot more aggressive than I have been."
Against Pedersen, Jurek's only major mistake was leaving a 2-4-8-10 split in the fourth frame, but otherwise he was nearly perfect.
"Jack was due," Pedersen said. "He's been bowling really well. After he left the 2-4-8-10 (in the fifth frame), I was wondering if the old Jack was going to show up or the new one, but he persevered."
In the first semifinal round between a pair of PBA Hall of Famers, Pedersen defeated Pete Weber of St. Ann, Mo., 267-226, putting a crimp in Weber's hopes to overtake fellow PBA Hall of Famer Norm Duke in the 2014 PBA50 Player of the Year race. That battle will be decided in the PBA50 Tour's season finale in Welch, Minn., next week.
Duke, who leads the race with 56 points, failed to add to his total in Hammond when he was eliminated in the Round of 8. Weber picked up four points for finishing fourth to increase his total to 48 heading into Welch, Minn. Tom Baker of King, N.C., also remains in contention with 44 points. In the Player of the Year competition, 16 points will be awarded to the tournament winner, the runner-up gets eight points, third-place is worth four points and the fourth-place finisher earns two points.
In the second semifinal match, Jurek, a PBA50 Tour rookie and two-time PBA Tour title winner, used a string of nine strikes to defeat Canadian John Chapman, 267-206. For Chapman, who was trying for his first PBA50 title, it was his highest finish as a senior player.

The most dramatic match of the tournament came in the best-of-five-game Round of 16 when Chapman eliminated Duke, 3-2. After Duke jumped out to a 2-0 lead, Chapman rallied to win the last three games, 247-234, 231-224 and 248-247.

The PBA50 Tour concludes its 2014 season next week with the PBA50 Treasure Island Resort & Casino Open presented by Hammer at Island Xtreme Bowl in Welch, Minn. The season-finale gets underway with a special "Pete Weber Knock Down Pins for Cancer" event on Sunday, Aug. 10, followed by eight-game qualifying rounds Monday and Tuesday at 9 a.m. and 3:30 p.m. each day. After 16 games, the top 32 players will advance to single-elimination match play competition beginning at 8 a.m. Wednesday. The Round of 8, followed by semifinal and championship rounds, begin at 5 p.m.
The Pete Weber fund-raising event and all rounds of the tournament will be carried live on Xtra Frame, PBA's online bowling channel. For subscription information, visit pba.com and click on the Xtra Frame link.
---
2014/08/06
寺下智香、初優勝・初タイトル!
20歳の誕生日を目前にして自分への大きなプレゼント!
プロ入りから5年間のみ出場資格を与えられるレディース新人戦。
今年は43期から47期までが出場し、特に今季デビューの47期生は今大会がデビュー戦となる者も多かった為、フレッシュな戦いを見せてくれました。
予選8Gトータルの上位24名による決勝トーナメントでは、先日の六甲クィーンズで初優勝したばかりの桑藤美樹を倒した大根谷 愛、玉城妙子との47期生同士の戦いに勝利した寺下智香をはじめ、2年連続進出の本間由佳梨、大根谷 愛、渡辺けあきのほか、菊地 葵、櫻井麻美、小泉奈津美ら8名が出揃いました。
ここから1ゲームマッチのガチンコ勝負となる準々決勝では、本間・大根谷・渡辺・菊地が脱落し、小泉VS櫻井の準決勝第1試合がスタート。
そしてここでなんと櫻井がパーフェクトを達成して小泉を下します。
続いて第2試合、川舩VS寺下の戦いはストライクを繋げられずオープンフレームを2つ出してしまった川舩が自滅。寺下が決勝進出を決め、今季トップ合格の寺下VS女子新人戦史上初のTV収録パーフェクトを達成した櫻井による頂上決戦となりました。
目の前でパーフェクトを決められたことで寺下にプレッシャーがかかるかと思われましたが、やはりトップ合格者は器が大きかったのか、プレッシャーを感じることもなくただ「自分のボウリングをすること、しっかりと振り抜くこと」を考えた寺下は特にスコアを意識することもなく、2フレーム目のスプリットもカバーしてノーミスを守ります。
逆に櫻井はパーフェクト達成から準決勝第2試合、アマチュア優勝決定戦と続いた2ゲームで変化したレーンを掴みきれず、滑り出しの1フレーム目以降ストライクが決まりません。そこに6フレーム目、痛恨の7-10スプリット。
対照的にラッキーでダブルを拾った寺下はこれでリードを広げ、最後まで櫻井を寄せ付けずに勝利を掴みました。
北海道から応援に駆けつけたお父さんが見守るなか、プロ入りから4試合目で嬉しい初優勝を挙げた寺下。「まだシードプロや先輩方がたくさんいる試合は緊張する」と初々しさを覗かせましたが、今後はレギュラーツアーでもますますの活躍が期待されます!
吉田選手の連覇を阻んで優勝!
太田千恵選手
櫻井麻美、TV収録パーフェクト達成!
多くの選手が我慢を強いられるタフなレーンを相手に、櫻井麻美がやりました!
決勝トーナメント・準決勝第1試合、なんとTV収録中に自身初(JPBA公認225号)パーフェクトを達成。レディース新人戦史上初の快挙です!
---
2014/08/05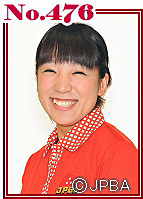 堀内 綾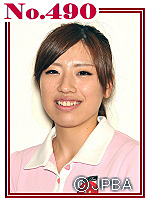 大根谷 愛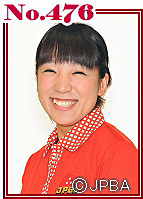 堀内 綾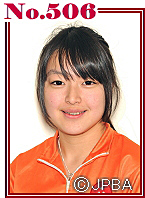 古田翔子
山下周作が優勝!
さる7月26日(土)・27日(日)の2日間にわたり、キャッスルボウル福山(広島)にて開催されました第5回福山オープンBINGOカップにて、山下周作が優勝致しました。
予選8G、準決勝3Gではパーフェクトが4つも達成されるハイレベルな戦いが繰り広げられ、ダブルイルミネーション&変則シュートアウトステップラダーによる決勝戦・優勝決定戦ではシュートアウトを勝ち抜いてきた強豪アマの武部公英選手と、予選1G目でパーフェクトを出した山下による一騎打ちに。結果、わずか4ピン差で山下が逃げ切り、優勝を決めました。
---
2014/08/04
小牧辰矢選手 優勝!
2005年にプロ入りした西村美紀(38期・No.408)と河津亨至(44期・No.1080)のプロ10周年記念大会がイーグルボウル(大阪)にて開催されました。
パーフェクトが1つ、800シリーズが3つも達成され、関西アマチュアのレベルの高さが証明されるなか、準決勝・決勝と800シリーズを二度も達成した小牧辰矢選手が優勝されました。
---