2013/08/30
小林 誠 優勝!
夏休みも終わりに近づいた8/25(日)、王冠ボウル(栃木)にて承認大会・第6回那須与一カップが開催され、小林 誠が優勝しましたのでご報告致します。
予選8Gに続いて決勝シュートアウトが行われ、上位14名でのバトルロイヤルとなった優勝決定戦を小林と、小林の妻である小林由紀(旧姓:山本)の実弟、山本 勲が義兄弟によるワンツーフィニッシュを決めました。
---
2013/08/27
小林哲也が優勝!
さる8/10(土)・11(日)の2日間にわたり、ボウルアピア郡山店にて承認大会・ウェルズホーム杯福島オープン2013が開催されました。
プロ56名、アマチュア184名の計240名が参加し、大会は大いに盛り上がりました。
優勝決定戦はトップシードの小林哲也と、黒田仙雄の対戦。決勝トーナメントをビッグゲーム連発で勝ち上がった黒田でしたが、優勝決定戦ではスコアを伸ばせず、わずか6ピン差で小林の勝利となりました。
---
2013/08/21
Weber Celebrates 51st Birthday, Wins Treasure Island Resort & Casino Open in PBA50 Tour Season Finale
Pete Weber had a very nice birthday Wednesday, winning his second PBA50 Tour title in the Treasure Island Resort & Casino Open presented by Brunswick to lock up PBA50 Rookie of the Year honors and clinch a berth in the new PBA50 Finals which will be held as part of the PBA World Series of Bowling V in early November.
The now 51-year-old St. Ann, Mo., resident defeated Robert Harvey of Boise, Idaho, 243-227, at Island Xtreme Bowl in the PBA50 Tour's final event of the 2013 season to claim the $7,500 first prize. But what made the victory extra special was Weber's victory over fellow PBA Hall of Famer and nemesis Walter Ray Williams Jr. in the semifinal round.
"My birthday was complete when I beat Walter," said Weber, who has beaten Williams only twice in 11 head-to-head matches in PBA Tour televised contests. I bowled good all day. It seemed like I shot 240s all day, but on the scoring condition we had here, 240 wasn't always a guaranteed winner. Walter shot a lot better than his score. He just didn't carry, and fortunately I did.
"This is the third time we've had a (PBA) finals on my birthday," Weber added, "and I've won titles all three times, so I kind of like bowling on my birthday."
The victory allowed Weber to lock up the PBA50 Rookie of the Year title, which is based on the competition points standings. And he earned 16 Player of the Year points, which allowed him to pass Lennie Boresch Jr. of Kenosha, Wis. (who lost in the Round of 8), for the third birth in the PBA50 Finals, a special ESPN-televised event which will be conducted during the PBA World Series at South Point Casino, Hotel and Bowling Center in early November. Williams, who clinched his second straight PBA50 Player of the Year title a week earlier in Decatur, Ill., and Venezuela's Amleto Monacelli earned the first and second berths in the PBA50 Finals.
"I'm very happy with my rookie year," Weber added. "I bowled in six tournaments and made the top four five times. The only way it could have been better would have been to win every one, but I'll take it."
Weber won his first PBA50 Tour title, and first major as a 50-and-older player, in the USBC Senior Masters in June.
Another honor was decided Wednesday when Tim Kauble of Marion, Ohio, finished in the top eight to become the PBA50 Tour's first Super Senior Player of the Year, nipping PBA Hall of Famer Dale Eagle of Tavares, Fla. The honor for players ages 60 and older was based upon the tour's competition points standings.

---
2013/08/15
斎藤祐太選手が優勝!
「目指せ!神奈川オープン」を合い言葉にスタートした神奈川プロアマチャリティーボウリングトーナメントの第2回大会が、先日8/11(日)に川崎グランドボウルにて開催されました。

神奈川を代表する強豪プロにくわえて今季プロデビューした谷合貴志、山田弥佳ら12名による決勝トーナメントを勝ち上がったのは、JPBAトッププロの山本 勲と今年7月の全日本高校選手権で準優勝の斎藤祐太選手。プロの意地にかけて2大会連続のアマ優勝を阻止したかった山本でしたが、4フレーム目でのオープンが響いて14ピン差での敗北となりました。

なお大会収益金の一部は財団法人神奈川新聞厚生文化事業団を通じて社会福祉に役立たせて頂きます。
---
2013/08/13
PBA50 Tour Veteran Kerry Painter, Local Star Tom Adcock Win PBA50 Senior/Super Senior Doubles Classic
The doubles team of PBA50 Tour veteran Kerry Painter and local standout Tom Adcock combined for their first PBA50 Tour title by winning the PBA50 Senior/Super Senior Doubles Classic presented by Brunswick Tuesday at Spare Time Lanes.
The pair beat two of PBA's all-time greats, Hall of Famers Johnny Petraglia of Jackson, N.J. and Wayne Webb of Columbus, Ohio, 267-187, in the Baker format championship match.
"I could tell within the first five minutes that we were going to click together," said Painter, who owns two PBA50 regional titles and has a best PBA50 Tour finish of third which came in this season's United States Bowling Congress Senior Masters. "I didn't know Tom before we bowled the tournament but it didn't take long at all to develop confidence in each other.
"This is a special moment for me to win after six years bowling on the PBA50 (Tour)," the 60-year-old Painter added. "Bowling two of the greats that I watched on TV in a situation like this is something I never would have believed."
For Adcock, a 51-year-old IT specialist from Decatur and a self-described tournament weekend warrior, it was an emotional win.
"It couldn't be any more special to win this tournament," said Adcock who just became a grandfather last week. "I'm just feeling a lot of emotion right now. I'm thankful for PBA having this tournament here because I'm not able to bowl a lot of tournaments because of my work and family commitments.
"Kerry's very positive and I picked up on that right away, Adcock added. "He has a game where he keeps the ball in play which worked well with my game. There were times when he was bowling fantastic and I wasn't and times when maybe I was bowling better but in the end we were able to work together."
Adcock owns one PBA regional title and also owns a USBC Open Championships team title.
In the semifinal match, Painter and Adcock beat the doubles team of Emilio Mora Jr. of Lakeland, Fla. and Hall of Famer Pete Weber of St. Ann, Mo., 220-194. In the opening match, Mora and Weber beat Bill Henson of Westerville, Ohio and 10-time PBA Tour winner Bryan Goebel of Shawnee, Kan., 236-226.
The tournament used a doubles format where a senior player (ages 50-59) and a super senior (ages 60 and over) were paired up for match play based on their qualifying positions in their respective divisions. The Baker format requires players to alternate frames in a game to combine for one score.
---
2013/08/08
Walter Ray Tops Mark in All-Williams Title Match in PBA50 Tour South Shore Open
Walter Ray Williams Jr. of Ocala, Fla., defeated Mark Williams – no relation – of Beaumont, Texas, 217-198, in an all-Williams title match to win the PBA50 Tour South Shore Open presented by DV8 at Olympia Lanes Thursday.
Helped by Mark's pocket 7-10 split in the 10th frame, Walter Ray completed a come-from-behind victory to win his third PBA50 Tour title of the year, the seventh PBA50 Tour title of his career, and he expanded his points lead to 18 points over Venezuela's Amleto Monacelli in the PBA50 Player of the Year race with only two tournaments remaining in the 2013 season.
Walter Ray Williams, who owns a record 47-time PBA Tour titles, never led in the title match until throwing three strikes in a row in the eighth, ninth and 10th frames to erase Mark William's early lead. Mark had a chance to win with a strike and nine-count spare in his 10th frame, but left the so-called "impossible" split on a pocket hit on his first shot.
"That was the 15th time I left that split this week," Mark said, "but I guess there was room for one more. That shot could have struck, but maybe it was just the pressure of the moment."
"I bowled a great game and had a lot of nine counts, and Mark bowled a great game and had some bad breaks," Walter Ray said. "But that's part of bowling. For awhile it looked like I wasn't getting any good breaks, but in the end I got the break I needed."
Despite years of bowling against each other on the "junior tour," as the 50-and-older players refer to the regular PBA Tour, friendships and good-natured rivalries remain intense among the PBA50 players.
"We're all good friends. We've known each other for years, but we don't like to lose to each other," Walter Ray added. "I'm still competitive. I don't like to lose. I'm out here to get all the accolades I can, and win titles, and win a little money if I can."
In the semifinal round featuring four PBA Hall of Famers, Mark Williams started with six strikes and ran away with a 267-191 decision over Pete Weber of St. Ann, Mo., who left splits and failed to convert both the third and fifth frames. Walter Ray then set up the all-Williams title match with a 244-199 victory over Randy Pedersen of Clermont, Fla.
By picking up 16 points in the Player of the Year points race, Williams has an 18-point edge over Monacelli in second but Monacelli has indicated he will not bowl in the final tournament of the season. Pete Weber is third in the points competition 28 points behind.
Because next week's Decatur event is a doubles format tournament, Player of the Year points will be awarded after qualifying has been completed if contenders finish within the top four.
The top three players in PBA50 Tour points also competing for earn berths in the ESPN-televised PBA50 Tour Finals, a new special event that will be conducted during the PBA World Series of Bowling V at South Point Hotel, Casino and Bowling Center in Las Vegas in early November.

The PBA50 Tour completes its 2013 season with the Decatur Open presented by Brunswick at Spare Time Lanes in Decatur, Ill., Sunday through Tuesday, Aug. 13, followed by the Treasure Island Resort and Casino Open presented by Motiv at Island Xtreme Bowl in Welch, Minn., Aug. 18-21.
---
2013/08/07
喜びの笑顔も自然体
夏の恒例・sky・Acup2013プロボウリングレディース新人戦。

プロデビューから数年間しか参加できない貴重なタイトルだけに、今年がラストチャンスとなる41期・42期生はもとより、今季デビューの46期生にいたるまで初々しいながらも真剣な表情でレーンに取り組みました。

頂点を決する決勝トーナメントでは1・2回戦で2Gマッチが行われ、42期生の望月理江、43期生の白石順子、44期生の田中亜実、45期生の大石奈緒・渡辺けあき・大根谷 愛・町井綾子、そして46期生の本間由佳梨ら8名が出揃います。

決勝トーナメント準々決勝からはガチンコの1Gマッチとなり、一投たりとも気の抜けない真剣勝負でまず白石・本間・町井・渡辺が脱落。続いて準決勝ではデビュー2年目ですでに公式トーナメント優勝経験を持ち、現シードプロでもある優勝候補の筆頭である大石が大根谷にまさかの敗退。望月もスプリット連続で自滅し、大根谷VS田中の優勝決定戦となりました。

21歳の大根谷と19歳の田中、若さ溢れる二人の対決を前に、アマチュアの部の優勝決定戦が行われ、数々の大会でベストアマに輝いた吉田由美子選手と、アマチュア大会で活躍中の現役高校生・鶴井亜南選手の対戦は、なんと両者182ピンで終了。勝敗はワンショットプレーオフに持ち込まれ、ストライクを決めた吉田選手が貫禄の勝利となりました。

名勝負の興奮冷めやらぬなか、大根谷と田中の優勝決定戦は田中のストライクからスタート。そのまま4連続ストライクを決める田中とは対照的に、大根谷は4フレーム目までストライクが決まりません。さらに5フレーム目をオープンにした後もストライクが決まらず、「対戦相手を意識せずに力を抜いて投げた」と自然体で臨む田中に追いつきません。大根谷も終盤になってようやくラインを掴み、9フレーム目からのオールウェーで追いましたが、ゲーム後半さらにターキーを決めた田中の背中は遠く、追いつく事は叶いませんでした。

2年前の2011年に現役高校生でプロ入りした田中、19歳になり少し大人っぽくなった笑顔で新人戦における最年少優勝を果たしました!  
---
2013/08/06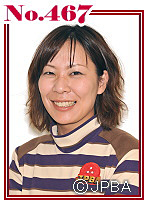 白石順子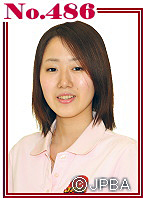 田中亜実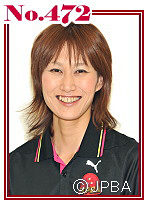 松原亜紀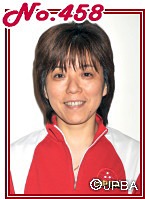 箭内則子
---