2012/08/26
 【JPBA】 東海女子オープンボウリングトーナメント 【決勝シュートアウト】
ギネスにも認定された日本最大のボウリング場、稲沢グランドボウルを舞台とした華麗なる戦い―中日杯2012東海女子オープンが本日最終日を迎えました。

まずは昨日の予選を突破した48名による準決勝シュートアウト、決勝グループラウンドロビンが行われ、実力もさることながら運も重要な鍵となる戦いは見応え十分の白熱戦に。

そうして迎えたファイナルステージ、西村美紀、板倉奈智美、大山由里香、松永裕美の全員が優勝経験を持つ顔ぶれが出揃い、優勝決定戦進出の二枠を賭けて熱戦の火蓋が切って落とされました。

激突と呼ぶに相応しいストライクラッシュの滑り出しから一転、中盤は各選手にオープンフレームが続出し、6・7フレームを連続してオープンにしてしまった西村が一歩後退。

ただ一人ノーミスを守り中盤にターキーを決めた松永がリードを取ります。

しかし板倉・大山も猛然とストライクを重ねて松永を追撃。8フレーム目からのオールウェーで大山は松永を追い抜きましたが、板倉はわずか4ピン及ばず無念の敗退となりました。

勝てば実に10年ぶりの優勝となる大山、悲願の三冠女王に向けてそろそろ白星が欲しい松永。二人の優勝決定戦がこれほどの名勝負になろうとは、誰が予想できたでしょうか。

序盤はほぼ互角、中盤で松永がワンマークリードすると、終盤で大山がターキーを決めて再び並び立ちます。抜きつ抜かれつの接戦の末、10フレーム1投目で大山がこのゲーム2度目のスプリット。カバーできなければ敗北が決定的になるところを執念でカバーして繋げると、松永は10フレーム2投目もストライクならば優勝が確定する場面で6・10番を残す8本カウントにしてしまい、結果両者201ピンの同点で終了します。

勝敗の行方はワンショットプレーオフに持ち込まれ、まずは先攻の大山がストライク。続いて後攻の松永もストライクを決めると、観客から大きな歓声があがります。

先に集中力が切れた方が負ける。そんな苛酷な状況で、大山・松永ともに3投目まで一歩も譲らぬストライク合戦を繰り広げます。

そして大山が4個目のストライクを決め、呼吸さえ苦しくなるほどの緊迫した空気の中、松永の4投目は4番を残す9本カウント。永遠に続くかのように感じられた長い延長戦は、悲喜こもごもの大きな歓声に包まれて終了となりました。

史上まれに見る接戦を制して、大山由里香、10年ぶりの女王の座に君臨しました!
 【JPBA】 東海女子オープンボウリングトーナメント 【決勝グループラウンドロビン】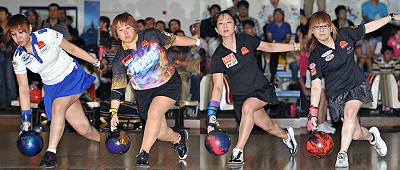 【JPBA】 東海女子オープンボウリングトーナメント 【準決勝シュートアウト】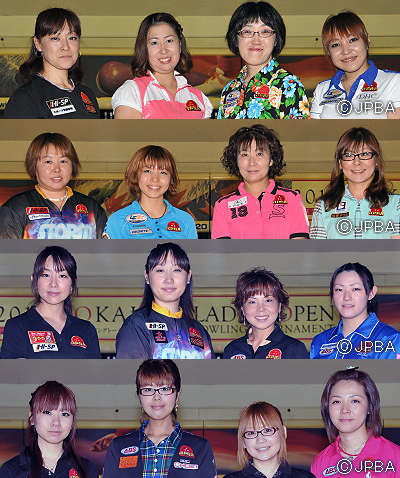 2012/08/25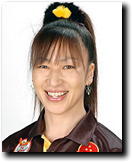 中島政江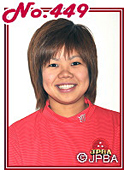 宮城鈴菜
2012/08/21
O'Neill, Jones Capture Doubles for Team USA at PABCON
Team USA's Bill O'Neill and Tommy Jones earned the gold medal in men's doubles Tuesday at the 2012 Pan American Bowling Confederation Adult Championships.
The pair tallied 2,805 for six games with O'Neill shooting 1,436 and Jones adding 1,369 to the winning total at Sunset Station's Strike Zone Bowling Center. Colombia's Rocio Restrepo and Maria Jose Rodriguez took the women's doubles gold.
O'Neill and Jones took the lead in the second game and never looked back, firing a 546 game to surge into the lead.
"Winning a gold medal never gets old, especially when I am able to do it with one of my best friends," O'Neill said. "The key was our communication. Between the two of us we know each other's games so well and that was a big advantage."
The Team USA men finished first, second and fourth in the standings, just missing out on a rare sweep of the doubles medals, which last happened in 1974.
John Janawicz and Steve Smith took the silver with 2,777, while Marshall Kent and Patrick Allen finished fourth with 2,743. Costa Rica's Alberto Lizano and Alejandro Reyna tossed 501 in the final game to bolt into the bronze medal and past Kent and Allen by 24 pins.
In the women's division, Restrepo and Rodriguez rolled to the gold medal with 2,758, finishing more than 100 pins ahead of silver medalists Aseret Zetter and Iliana Lomeli of Mexico. Samantha How and Caroline Lagrange of Canada took the bronze.
"This is a big deal for Colombia," Restrepo said. "A lot of our funding for our federation is based on us winning medals, so this is very important for us."
Team USA finished just off the podium with Josie Earnest and Stefanie Nation ending up in a tie for fourth place with teammates Diandra Asbaty and Leanne Hulsenberg. Their 2,604 total was 43 pins away from bronze. Shannon Pluhowsky and Liz Johnson finished 10th.
The action now shifts to the trios event, which will take place starting at 9 a.m. Pacific on Wednesday. BOWL.com's BowlTV is providing free live streaming of the entire tournament.
For more information on the 2012 PABCON Adult Championships, visit BOWL.com/PABCON2012.
United States Bowling Congress
The United States Bowling Congress serves as the national governing body for the sport. USBC is a membership organization that provides standardized rules, regulations and benefits to make bowling fair and fun for everyone.
 
The interactive home of USBC is BOWL.com. Go to twitter.com/USBC for the fastest USBC headlines.
2012/08/14
Ron Mohr Wins PBA Senior Decatur Open; Walter Ray Williams Jr. Earns First Senior POY Title
Ron Mohr of Eagle River, Alaska, won the Professional Bowlers Association Senior Decatur Open presented by Brunswick Tuesday for his eighth career Senior Tour title while PBA Hall of Famer Walter Ray Williams Jr. captured his first PBA Senior Player of the Year crown in the final tournament of the 2012 season.
Mohr, the 2011 and 2009 Senior Player of the Year, defeated three-time Senior Tour titlist Harry Sullins of Chesterfield Twp., Mich., 243-181, in the championship match to win his first title of the 2012 season.
"It really wasn't realistic to expect I would have a season like last year," Mohr said. "Plus, I was having trouble matching up my ball drilling layouts with the conditions for the first half of this season. It comes down to having to adjust and I really didn't start making the right adjustments until about the middle of the season."
Both Mohr and Sullins had trouble finding the pocket in the first half of the championship match but Mohr was able to string six strikes in a row from the fifth frame while Sullins continued to struggle.
"When you're given the opportunity you have to take advantage of it," Mohr said. "I could see he was struggling and I knew if I could just put a few good shots together I could win it."
Despite being eliminated in the match play Round of 16, Williams earned his first Senior Player of the Year title to go along with his record seven on the PBA Tour.
Prior to the start of the tournament, 2012 USBC Senior Masters winner Mike Edwards of Tulsa and Hugh Miller of Seattle, who won last week's Senior South Shore Open, had a chance to catch Williams in the Player of the Year race but both had to win for any chance. Edwards was also eliminated in the Round of 16 and Miller failed to advance to match play handing Senior Player of the Year to Williams.
"The guys that had a chance didn't bowl all the tournaments this year so it would have been interesting to see how it would have turned out if they did," said Williams, who was the Senior Tour's Rookie of the Year in 2010. "I would have liked to finish it off with a win or at least a better finish but the breaks didn't go my way and I let it get to me a little bit today."
The PBA Tour's all-time career titles leader with 47 wins, came off of what was probably his worst PBA Tour season in April failing to make a television appearance for the first time in 26 seasons, but he rebounded to win two titles during the Senior Tour season. He will now turn his attention to the 2012-13 PBA Tour season which starts with the PBA World Series of Bowling in Las Vegas in November.
"I'm looking forward to the World Series and probably am going to give it another year on the PBA Tour and evaluate it after that," Williams said. "It's a little different bowling out here on the Senior Tour than the regular Tour but I'm encouraged by the season I had on the Senior Tour."
In the semifinal matches, Sullins defeated Hall of Famer and 2010 Senior Player of the Year Wayne Webb, of Columbus, Ohio, 257-237, to advance to the championship match with Mohr beating Michael Henry of Brunswick, Ohio, 222-175.
 【JPBA】 第3回福山オープンBINGOカップ 【承認大会】
津島悟志が優勝!
さる7/28(土)・29(日)の二日間にわたって開催されました承認大会・第3回福山オープンBINGOカップ(広島・福山パークレーン)にて、津島悟志が優勝致しましたのでご報告します。
決勝ステップラダー・優勝決定戦では、勝者ゾーンで待ち受ける津島と敗者ゾーンから進出の酒井武雄が対戦。ビッグゲームを連発して勝ち上がって来た酒井でしたが優勝決定戦では振るわず、地元広島の応援を背にした津島がツーマーク差で酒井を下しました!
2012/08/10
斎藤 忍 選手が優勝!
8/4(土)・5(日)の二日間にわたり、ボウルアピア郡山店(福島)にて開催されました、承認大会・ミュゼプラチナム杯福島オープン2012にて、斎藤 忍 選手が優勝致しました。
予選1位で決勝トーナメント・優勝決定戦に臨んだ斎藤選手は、新人・添田道彦を下して勝ち上がって来た高橋延明と対戦。
鋭く切り込んでくる高橋と接戦を繰り広げ、HDCP差で高橋を倒して大会制覇を果たしました!
2012/08/09
Hugh Miller Wins PBA Senior South Shore Open to Enter Senior POY Picture
Hugh Miller of Seattle won the PBA Senior South Shore Open presented by DV8 Thursday for his third career Senior Tour title and in the process became a contender for Senior Player of the Year heading into the final tournament of the season.
Miller defeated 2007 Senior U.S. Open winner Rick Minier of Houston, 198-172, in the championship match to move into second on the Senior Player of the Year points list, 12 points behind Hall of Famer Walter Ray Williams Jr. Williams hoped to clinch the honor in Hammond but failed to earn any points after being eliminated in the second round of match play.
The Senior Tour season wraps up with the Senior Decatur (Ill.) Open Aug. 12-14 at Spare Time Lanes which will be covered live in its entirety by PBA.com's online bowling channel Xtra Frame.
"I was kind of a long shot but wasn't really mentioned as a contender so I kind of used that as a motivator," said Miller, who earned 16 Player of the Year points for his win. "When Walter Ray wasn't able get any points I thought let's win this thing and the race is on."
In the semifinal match Miller, also a seven-time PBA Tour winner, defeated 2012 USBC Senior Masters winner Mike Edwards of Tulsa, 237-177, to advance to the title match. In the other semifinal, Minier defeated Hall of Famer and four-time Senior Player of the Year Tom Baker of King, N.C., 220-205.
Miller did not bowl the first three tournaments of the season but finished second in the Senior Northern California Classic and Senior Masters which put him in Player of the Year contention.
"I've had a pretty good season considering I didn't bowl the first three tournaments," said Miller, who finished second in Hammond in 2008. "I've adopted a new philosophy of bowling a little more aggressively and not giving away the pocket. It seems to be working so I thought why not go for it."
Edwards, who was awarded fourth in the tournament, earned two Player of the Year points to stay in the race in third, 14 points behind Williams.
2012/08/08
sky・Acup2012プロボウリングレディース新人戦
小林あゆみ、六甲に続く連勝を果たす!

プロデビューから5年間だけ(未開催の年があった為、現在の対象は6年)出場資格が与えられるプロボウリングレディース新人戦。今年も新時代の申し子達による新たなドラマが生まれました。
予選を通過した24名によるガチンコ勝負の決勝トーナメントを勝ち抜け、TVファイナル進出を果たしたのは望月理江、堀井千恵、桑藤美樹、佐々木知子、大石奈緒、宮城鈴菜、小林よしみ、そして小林あゆみの8名。
準決勝で敗退はしたものの、鳴り物入りでプロデビューした大石や宮城をはじめ、望月、桑藤らも善戦しましたが、なかでも史上初の姉妹による優勝決定戦を実現させるべく、準決勝まで勝ち上がった小林よしみや、今年5月にプロ入りし、公式戦デビューとなる今大会で大躍進を見せた堀井らの活躍はめざましいものがありました。
そして頂上決戦はそんな堀井と小林よしみを倒してファイナルステージへ上がった、小林あゆみVS佐々木の顔合わせとなりました。
初優勝がかかった佐々木は初めてのTVファイナル、優勝決定戦とあって緊張が見られ、スプリットからの手痛い滑り出しに。対する小林あゆみは連勝がかかるなかでもプレッシャーを感じさせない表情でターキーを決め、初手から佐々木をリードします。
中盤に入って小林にストライクが続かなくなると、佐々木がダブルを重ねてワンマークまで差を縮め、小林の背中に近づきましたが終盤で今度は佐々木にストライクが来ません。
勝負どころにダブルに成功し、再び差を広げた小林は追いすがる佐々木を突き放して勝利。はからずも妹・よしみの仇を取って、どんな緊迫した場面でも「ボウリングを楽しむこと」を忘れないニューヒロインが初優勝から一ヶ月も経たずに連勝を果たしました! 
2012/08/07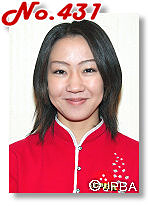 野瀬千春
今年ラストチャンスの40期生野瀬千春が前半からスコアを伸ばしBシフトトップで決勝トーナメントへ!2位に今年度プロテストトップ合格の大石尚緒が続く。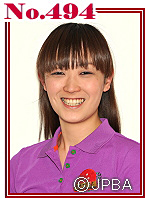 桑藤美樹
先日の「六甲クイーンズオープントーナメント」でデビュー戦6位の桑藤美樹が初タイトルに向けAシフトトップで決勝トーナメントへ進出!そして同じ「六甲」で初優勝を挙げた小林あゆみが2位で通過を果たす。